Greetings and welcome!
I went out and did some damage checks this morning. Most areas are fine. My route took me down Landing 11Rd to Caldron Falls Rd to Thunder Mountain Rd, the subdivision around the Thunder Mountain Valley Inn, east on Thunder Mt Rd, and north on Parkway to C and west back home.
Landing 11 had 3 trees or branches down between C and the town line, none threatening buildings. It was ok down to Thunder Mt Ranch. They had a couple of trees down just north of their main driveway and occasional trees down for the next mile or so going south.
There were a couple of branches down at Thunder Mt Rd & Caldron Falls Rd, no big deal. Two of the cabins right by Thunder Mountain Valley Inn took trees to the roof. One is right at the intersection of Huigen Rd and the bar, one is right across the parking lot from the bar.
There was one big branch down on Thunder Mt Rd a mile east of there.
Going north on Parkway there were a couple of trees down on either side of Kamps Rd, none threatening structures. We were pretty good up to Curve Inn (Trixie's). From there to the boat landing there were a few more trees down. At the boat Landing there were more trees down, and the guy on the SW corner of Dahleen Ln and Parkway, his yard was messed all of the way up with a lot of trees down. There were a couple more trees down between there and X.
North of X there was a tree down by Tall Oaks, no big deal. The next damage that I saw was a couple of trees damaged in the big pines across from Thornton's and north a little. From there up to Bunny Bay Rd had a few more trees down.
Highway X going across the bridge from Parkway going east was closed. I know that Popp's took some damage, it was probably about cleaning that up.
Heading north on Parkway from Bunny Bay there was one tree down just into Silver Cliff on Parkway. There was a branch by the road across from The Red Pine BP, and that was it for damage as I made the run home on C.
The ride was not uneventful. There were a couple of turtles laying eggs by Landing 11 Rd, a tiny fawn by Thunder Mt Valley Inn, and a bear about a mile east of there.
Events-
This weekend is the Muscle Maniac's Car Show in Lakewood, the Nicolet Plastics Run/Walk, and live local music at the candy shop in Lakewood. You can get details on those events here.. http://www.ocontocounty.org/events/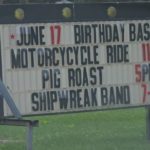 The Thunder Mountain Valley Inn is having a birthday bash with a motorcycle ride, pig roast, and live music Saturday.
The Hilltop Resort is having a Father's Day buffet for $12 on Sunday.
On Saturday the Caldron Falls Bar is having a benefit ride/poker run, followed by live music at 4pm.
That is all that I have for events at the moment.
The weekend weather looks OK but not perfect. The NWS has a 50% chance of rain Saturday. The GFS forecast model is showing just scattered showers and less than 0.25" of precip.
There is a small low pressure area that will track through the area Saturday night with a decent chance of showers or storms. Once that clears out Sunday should be nice. Look for high temps of 84 Friday, 79 Saturday, and 74 Sunday.
That is all that I have for today. Have a good Wednesday and thank you for visiting!
RJB