Greetings and welcome!
It looks like we are in for a fantastic weekend. The original forecast was for upper 40s to mid-50s. Now we are looking at mid-50s Friday, Upper 50s Saturday, and 61 on Sunday, with sunshine all three days. Yee Haw!
It will be a sloppy one though. The April sun and nice temperatures will make quick work of our foot of snow from earlier this week. That will make things a little muddy, but it will also make the river roar. That is well timed since we have a big event at Kosir's this weekend.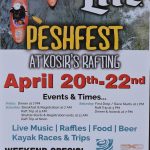 People are very tired of winter around here. Hopefully this weekend is the beginning of a trend.
Have a good weekend and thank you for visiting!
RJB