Greetings and welcome!
The fall colors are starting to come in pretty nicely. The deep red early maples are starting to stand out along with some nice yellow and orange. The show is just getting started though, not everywhere has color yet. On the way to Crivitz the other day there were places with just a few colorful trees on the treeline, and other places had you in a hallway of color.
A friend traveled to the UP this week and came back with some amazing color pictures. It is coming but the peak is not here yet. There will still be some nice color this weekend.
The folks at Marinette Co Tourism came out with a nice brochure promoting a series of fall rides both by car and by ATV. The are things like the waterfall ride, the tall timber ride, the wine & cheese ride, and more. Take a look. This IS a PDF.
https://www.exploremarinettecounty.com/i/f/files/Fall%20Colors%20Brochure%202022%20-%20split%20for%20web.pdf
This weekend is the annual soup and chili festival at the Silver Cliff Picnic Grounds. Here is a poster.
This is a little out of my area, but it is an interesting event for some..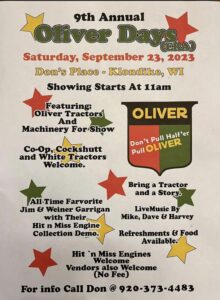 Saturday the 23rd brings the autumnal equinox marking the transition from summer to fall. I hate every second of that because summer and fall went by like freeway markers do at 75mph. Next up is the first snowfall and then the first measurable snowfall. Here is a chart from the NWS with some local records for those dates.
https://www.weather.gov/grb/FirstSnowfallsOfTheSeason
While it is not the standard, I consider October 10th the beginning of winter. One year many years ago I had to paint a van outside. It was October 9th. I had to spray over 50 degrees. I was out there until 10pm because it was going to snow the next day. It did snow, close to 6″ of the stuff. It also never went above 50 degrees again that fall. It was very memorable. Now I consider any day after October 10 that doesn't have snow on the ground and does go above 50 degrees a blessing and a bonus day.
Apparently we had a couple of night of northern lights this week. I missed them completely.  If you go on Facebook and look up Northwood Storm Chasing a guy named Dan Smeska came up with some outstanding pictures of it. https://www.facebook.com/northwoodsweather
One last item.. The band Rapid Transit is playing at The Rustic this Saturday from 6-10. They played my wedding party last year and were great. I am hoping to be there when they return this weekend.
Have a good weekend and thank you for visiting!
RJB