Greetings and welcome!
We have a lot to talk about today.
First up is the big paddler's festival at Kosir's this weekend. It starts Friday night with live music. There will be on water races and activities Saturday, followed by a Saturday evening meal, usually something that Todd slow cooked or smoked on the grill. Follow that up with more music Saturday night. The on-water activities continue Sunday at a more casual pace with shuttles to the put in at your own timing. This event has been growing and I'd be surprised if we didn't see a few hundred paddlers. Here is a poster about it.
That brings us to river levels. The Peshtigo has been breaking daily records all week. The gauge has been there 20 years. Today we are running at 2,450CFS, about a +37″. The record for today was 1,740 back in 2008. It has been like that since the weekend, breaking records daily. It looks like it is starting to come down a little today. My wild guess ( and that is all that it is..) is for the water to be some where in the +24 to +30 range for the weekend.
This is serious water, and just a treat for whitewater rafting and paddling.  This is paradise for hard boaters and huge adrenaline adventure for people that raft. Call Kosir's and get in on the fun. 715-757-3431.
This week has brought an amazing transformation from winter to spring. The days are getting nicer and the grass went from snow covered to very green in a very short time. I saw my first moth this week. I have not seen the gators (mosquitoes), ticks, or gnats yet but they have to be coming soon. The spring peeper frogs in my pond are really loud now. Vreep.
I have not seen the first leaves yet, but again they are not far off.  Some of the poplars/cottonwoods/birch trees are starting to get their first catkins. They give the tree  kind of hazy look at a distance. The maples should be coming with their little red flowers any day now.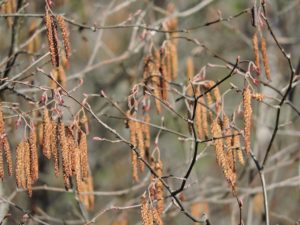 There is a minor detour in Crivitz on Hwy A. They are working on some sort of water project right in front of the Police station. You end up going a block south onto W and following that a couple of blocks and back to A. It is a pretty minor disruption.
The last thing on my list is weekend weather. Friday looks great  with sunny and 56 for a high. Both Friday and Saturday night are headed for a low of 28 according to the NWS.
Saturday gets interesting. There is a big storm shown missing us just to the south. That storm is expected to draw in some cold Canadian air, giving us a high in the low 40s. The forecast animation on the 5pm news tonight showed the north side of the storm actually having  little snow and mixed rain and snow. Much to my delight it also showed the storm staying south of Hwy 64. Thirty or forty miles isn't much of a margin in the context of a 3 day out forecast, but I'll take it. The NWS put a 40% chance on us seeing some sort of precip. Keep an eye on the forecast.
Someone asked how the frost-out was coming along. It varies  lot from place to place. The sunny spots in my driveway are firm but wet. I can drive on them making only minor impressions. More sheltered areas are still pretty soft, and low areas are holding a lot of water. We are making good progress. There was not a deep frost thanks to all of the snow, but there is a lot of moisture.
That is news for today. Have a good week and thank you for visiting!
RJB