Greetings and welcome!
Last week a friend suggested that I minimize my updates. We aren't doing that today.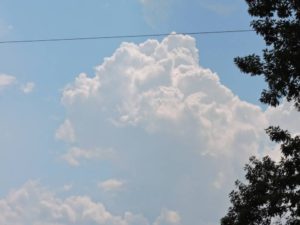 First up, the weather has been pretty typical for summer. Pop=up thunderstorms have happened here and there. Sunday afternoon one hit with a ton of rain by Kosir's. Some areas got hit, some didn't. Yesterday I was in Wausaukee when a cloud opened up, but the roads were dry in Silver Cliff.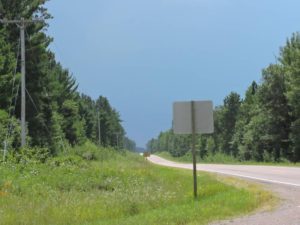 Looking ahead I think that we are in for more of the same for the foreseeable future. It isn't anything organized, it is just atmospheric instability from the heat of the day.
The TV says that we could see heavier rain tomorrow and tomorrow night. At one point they were predicting 2-2.5″ of rain for our area. The NWS is on board with some rain and storm, but without the dramatic totals.
Hopefully it hits the Peshtigo River watershed and keeps our unbelievably good whitewater season going. The river is getting close to hitting the zero mark for the first time all year.We are still quite a bit above normal though. Our normal flow for today is 215cfs, and we are at 335. I consider anything above 300 the fun zone, and 250 rocky but good enough. With any decent rain tomorrow we should have yet another good weekend of playing in the whitewater.
The tubing at Kosir's has been very popular in recent weekends.Not everyone wants to play in the whitewater, and the tubing is only $5 (Cheap!).
There is also the much larger Menominee River, which being dam controlled, usually has good water levels into August and beyond. That has been pretty consistent at about 2,000cfs, a very fun level, and above today's mean flow of about 1,500cfs.
Weekend Weather- In a word- Fantastic! The forecast is for temps in the low to mid-70s and not much for rain. We can always get those afternoon pop-up thunderstorms, but nothing organized is expected until late Sunday.
Weekend Events-
August 5
10th Annual Rustic Fest – Rustic Inn, Silver Cliff
Featuring Rok Candy – 7 to 11 pm in the Pavilion – cooking corn on the cob, brats and burgers starting at 5pm – bring a lawn chair
Lakewood Arts & Crafts Show (Link)
Date: Aug. 5, 2017
Time: 9:00 am – 3:00 pm
39th Annual Lakes Country Arts & Crafts Show 268 booths occupied by 204 vendors offering original work. Free admission and free parking. Located at Lakewood Town Hall and Activity Center. No pets allowed. Sponsored by the McCaslin Lions Club. (715)276-3956
Annual Wabeno Art & Music Fest (WAM Fest) (Link)

When:
August 5, 2017 @ 10:00 am – 10:00 pm
August 5th. In its 3rd year, jam-packed full day of fun:  live music on two stages, Piper Road Spring Band at 8:30pm, Plein Air outdoor art competition, Junior Rembrandt for kids, free mini-workshops (fiddling, flute, magic, painting and cigarbox guitar), art walk, raffles, food, drinks, and so much more!  Main Street, Highway 32, downtown Wabeno Band Shell, 10am – 10pm.  Free admission.
Pembine Community Picnic- Sat, August 5, 11am – 2pm  No additional info
Upcoming events.. Thanks Chris!
August 12
40th Annual Silver Cliff Fire & Rescue Aux. Picnic – Silver Cliff Memorial Picnic Grounds
Parade line-up at 9 AM, Parade at 10 AM – Picnic from 11 am – 5 pm  – Food & Drink, Games & Raffles, Fun for the whole family
August 12
Annual ACA Duck Run at the County V Park west of Amberg
Starts at 11am, public is invited. Paddle wheel, raffles, food and refreshments. Ducks for sale at Mathis Hardware, Driftwood Sport & Fuel, Amberg Pub.
Aug. 12, 13, and Aug. 17-20
Oconto County Fair – Zippel Park, Gillett
Demoliton derbies, horse, truck and tractor pulls, animal judging, exhibits, bands, family entertainment and carnival
Aug. 24-27
Marinette County Fair – County Fair Grounds, Wausaukee
Demoliton derbies, horse, truck and tractor pulls, animal judging, exhibits, bands, family entertainment and carnival
Sept. 9
The Annual Country Fling from noon until ? – Parkway Inn
Live Country Music, Food and Fun for the whole family
Personal-
I have been a busy boy as usual. My fiscal year for Work-Sport-Adventure Sales ended last week, I have 3 web sites in process and a couple of instrument clusters to fix. That is the short list. I have my work cut out for me.  The fiscal year end is a big one. Inventory, sales taxes, annual report, and a P & L statement are coming up next week or in process. Hopefully I will be getting on outside work soon. I have a lot of ground to cover before it gets cold outside.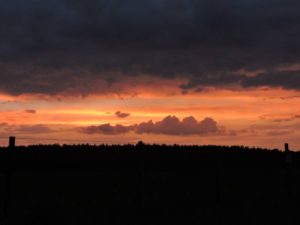 Last night I had about enough at sunset and went for a ride in the woods. There was a pretty sunset, which I gladly snapped away at. I get back into the car and check the rear view mirror and about 30 feet behind me is a Momma bear and cubs right in the road. I have seen them quite a few times before.
So I grab the camera and turn it back on. I stick my head out of the window into a cloud of hungry mosquitoes and promptly got mauled by them. I am anxiously trying to get the camera to work as Mom and cubs are heading for the high grass.
I think the camera was scared or something. It wouldn't focus, zoom, nothing. In the meantime I am losing a lot of blood, and the bears are wandering into the tall grass.
If I didn't like that camera so much it probably would have had an encounter with the 4# sledge in the trunk. I was pretty mad.  Sure it has twilight settings and stuff like that, but the bears weren't waiting around while I fiddled with dials. I finally got the shutter to fire and at least got a blurry shot. That wasn't very relaxing, but the rest of the ride was, so it was a nice sunset ride.
Yesterday on the way home from the grocery store I think I made a guy's day. He was pulling an empty firewood trailer in the oncoming lane with a flat tire that just happened and it was getting shredded. He pulled into a logging road and I pulled in behind him. He asked, do you need to get down this road? Nope. I stopped to help you.
I popped the trunk and whipped out a floor jack, a hammer, and an electric impact with the right sized socket. We had him on the road in probably less than 10 minutes. He says what do I owe you? Nothing. Help the next guy. I had the tools to make a potentially ugly job an easy job and was glad to pitch in.
I had a battery cable come loose on the Bonneville a couple of years ago and I ended up on the side of the road. Before I could get the hood open 3 cars had stopped. One offered a ride if I was still there when she came back in a half hour. Another followed me to town after I got it running. No one wanted money, they wanted to help.
That's the kind of neighborhood that I live in.
Have a good weekend and thank you for visiting!
RJB