Greetings and welcome!
It is the weekend before deer gun season, typically a pretty busy weekend around here. There are folks getting cabins and deer stands ready, people getting in one last weekend of bow hunting, all sorts of stuff.
I can tell you from my rides to and from work that the deer are active and running stupid.  I have seen a few bucks, but so far no huge ones. The way that they were standing out in the road suggests that they may be a little distracted.
We have a sunny and above normal temps weekend ahead. The weather forecast in for temps in the low 50s and a little wind both days. With clear skies the nights will be cold though, tonight they are looking for low 20s, and Saturday night around 32.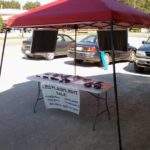 I will be at Athelstane country Mart this Saturday with my little red tent selling my LED flashlights, headlamps, floodlights and such. They also have a 1 day LP sale with some hard to beat prices. Stop in and let me know that you are a site visitor and I will make sure that you get a good deal.
Have a good weekend and thank you for visiting!
RJB