Greetings and welcome!
Yesterday evening I took a ride down to Crooked Lake. I have some friends down there I needed to check places for. On the way down LaFave Rd There wasn't much before the curve where the snowmobile/ATV/Pipeline trail crosses it.
The next few miles I started seeing the occasional tree down. About where the paved road starts a couple of miles north of town there were a lot more trees down. I only went about 1/2way through town, but there were a couple of big trees down and a guy's awning/carport tent got trashed.
That is about it for storm reports for today.
I offer to check on people's places because I know how it is. Before I moved here I drove the locals nuts when heavy weather came through and I was stuck downstate. Don't hesitate to ask.
I got a call from Climber's Anonymous Tree Service yesterday afternoon. They are doing just a ton of storm cleanups, but are still taking work. He said that Friday he is bringing in a 130 foot crane for some big cleanups. It will be near Waubee Lake, then to C & F where a giant tree fell on a cabin, and then down to Parkway & X where they got hit the hardest. If you have big work for the crane or need cleanup, call them.
I also do a web site for Panske Trim-A-Tree Tree Service in Marinette. If you have tree damage from 141 east to the lake give them a call.
Some friends that visit the area had a place down in Pulaski where a real tornado hit. I saw pictures and it is ugly down there.
Anyway, hopefully we are about done with severe weather for this week. It was a heck of a week with areas getting tree damage and in some spots 3+ inches of rain. Highways washed out on and on. I am glad that it is done.
The weekend forecast hasn't changed much. There is a 20% chance of rain Friday and 30% Friday night. Those are just scattered instability storms that happen in summer.
Saturday the chances go up to 50% as the day progresses. There is a fairly weak area of low pressure that will pass over the area Saturday night. There could be a shower or storm in advance of it Saturday afternoon with the daytime heating.
Saturday night the low gets here and there is a good chance of rain or storms 70%. Once it moves out early Sunday morning chances will go down as the day progresses.
Today looks like the hottest day, a scorcher with 87 & some humidity. The hi/low temperatures for the weekend are Friday 85/60, Saturday 82/60, and Sunday 73/53.
When I ran to the post office this morning I saw that the white daisies are making a big show along roadsides. There were long patches of them in the ditch for much of my ride. There are yellow ones too, and something that looks like wild mustard is in bloom in the fields.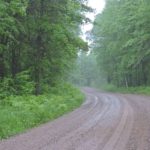 The bugs have been about normal for this year. A stop in the Nicolet to do this picture yesterday evening quickly found me swarmed by gators. Other than that some small flies that bite right through my socks hit me a few times while I was changing my water pump. Bring Repel. I use the Sportsman 40.
Back to the storm damage briefly..
While I was in the Nic I saw that North Fork Creek had really risen a lot, You can see that there is still grass under water, but more impressive is the grass laid down from when the water was a foot higher. It must have been a pretty good flash flood.
I also saw on Facebook yesterday that someone posted a picture from Dockside Bar showing the docks under water and like 20 feet from dry land.
Normally they have very tightly managed water level on the flowages. The Peshtigo River is abnormally high, so they had to release extra water from Caldron Falls Flowage.
Speaking of the Peshtigo River being abnormally high.. The whitewater rafting this weekend will be exceptional. The normal flow today is 472cfs, great fun in a raft or funyak. The most recent value is 1,910cfs, smashing the 19 year record of 1090cfs back in '02.
It looks like the river peaked yesterday at about a +37 or +38″. Normally it would be at about +6″. Today we are at about a +30 and it should be about a +26 for the weekend.
That means that they will be running spring rafts with 6+ people and a guide in them.  It is very unusual to get water this high in summer, and a lot of years it doesn't get this high in spring with the snow melt. If you want to see why the Peshtigo is world famous without walking through snow or dealing with cold air and water, here is a rare chance to do so. Call Kosir's. 715-757-3431.
Yesterday I was at the Caldron Falls Bar taking pictures for a new web site. Dann had just taken a batch of ribs off of the smoker. Oh man they looked good. I haven't even tasted them and they are fat guy approved. Those just have to be amazing.
Darn it now I am hungry. Gotta run.
Have a good weekend and thank you for visiting!
RJB