Greetings and welcome!
The big news today is the special town meeting last night about opening Parkway Rd to ATVs from Hwy C by Red Pine BP down to the Stephenson/Silver Cliff town line. The meeting was only advisory, but with a resident only vote of 44-25 in favor of opening the road the public sentiment was pretty clear. The real decision comes tonight at the regular town board meeting.
That short little stretch will make a huge difference for riders. People to the south of it will have access to gas at BP and be able to reach the north trails to Goodman. Dunbar, and Athelstane. Likewise the people riding from the north will have access to the Twin Bridge and Stephenson area resorts, lodging, and restaurants.
Not everyone was happy with the decision. There was some vocal opposition from a few people along that stretch. Some had suggested that they would close snowmobile trail access if it went through.
One of the speakers at the meeting was a fellow from the Marinette Co Highway Dept. He said that surrounding counties had been opening county roads to ATV/UTV traffic and were coming back with a good safety record. It was encouraging and he said that Marinette Co would be moving in that direction.
Again that would be positive for people that have places in the area, but no trail access, so they end up trailering a few miles to get to a trail. It would also give the opportunity for some key trail links.
Not everyone is for it. In Forest Co they opened up Hwy C to ATVs, but dropped the speed limit to 45. Some folks didn't like that. People might also have to slow down a little when they encounter  4-wheelers, but we have that now with bicycles, horses, old farts, tourists, and the occasional piece of farm equipment..
We will know more about the town decision tonight.
We have some warm and humid days ahead for today and Wednesday, and a couple of chances of storms. Some of those could get intense, but there isn't a significant threat of severe weather.
Once the storm passes Canadian high pressure will influence our weather. Thursday the NWS is calling for a high of 70 once the rain clears out. The temps gradually go up to about 80 for the weekend. There is only a minor chance of rain for the weekend. That is pretty typical summer weather where a line of storms can pop up on a warm day, but not any sort of organized storm.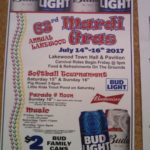 In events this weekend we have the Lakewood Mardi Gras  (See Poster to the left) and the Doty VFD Picnic on Sunday. (Link)
Next weekend is Hog Wrestling at the Caldron Falls Bar & Grill. With new owners they will have a few different things happening, new vendors, and more food options with their BBQ catering service.
Here are a few pictures that I took Sunday when I was out driving around..
I am still bouncing back from the short 4th of July week and I have a dozen things on my plate today so I am going to run along. I will let you know how the town board meeting goes tonight as soon as I know.
Have a good week and thank you for visiting!
RJB