Greetings and welcome!
I am sorry that it has been so long. August found me very busy and brought plenty of distractions. Even now I only have a couple of minutes to visit.
The weather has been a little cooler that is typical. We had some hot and humid weather and some storms, but nothing too hot or severe. More recently we have hit a cool stretch. Earlier this week we had a day that didn't even hit 60 degrees. That isn't very typical for August.
This weekend is the Marinette Co Fair, and it starts tonight. Here is a link.
Here are more event posters..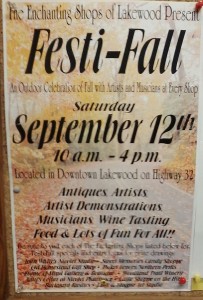 Here are more events from Chris' event calendar..
Sept. 5
Crooked Lake Fire Department Annual Breakfast.
Sept. 5
Riverview FD & Auxiliary Annual Corn Roast & Picnic
Food & Refreshments, Children's Games, Raffles, Live Music
Town of Riverview Fire House-Hwy 32 -Starts at 9am. Everyone Welcome.
Sept. 5
9th Annual Red Arrow Corn Roast and ATV/UTV Parade
at Barb's Valley Inn. Parade starts at 10AM with the Corn Roast following at 11AM till 7PM.
Meat Raffles, Food, Free Corn, DJ, Music.
Sept. 5
Amberg Annual Fireman's Picnic & Parade
Parade at 11am to Firemen's Park, Food & Refreshments, Live Music, Raffles, Horseshoes
Sept. 12
The Annual Country Fling from noon until ? – Parkway Inn
Live Country Music, Food and Fun for the whole family
Sept. 12
Annual Lena Dairy Fest sponsored by the Lena Lions Club
St. Anne Parish Grounds – Lena, WI – 5K Run/Walk at 8:00am, Parade at 10:30am, Food & Beverages, Farm Tractor Pull, Live Music
September 19
OctoberFest in Crivitz
11am – 11pm at Crivitz Community Veteran's Park, 510 Louisa St..
Proceeds to benefit the Crivitz Fire Dept. – Click here for details
I am seeing a pretty good chance of rain Friday afternoon and night, but it should clear up by about noon Saturday. After that we should have a decent weekend in the 70s.
Time to run. Have a good weekend and thank you for visiting!
RJB