Greetings and welcome!
I am sorry that I missed last week, I am a little overwhelmed with work again this May and a lot of things have been pushed aside.
A lot has happened in the great outdoors in the past two weeks. The grass is well past needing to be cut and into too long territory. The undergrowth in the woods is getting thicker and you can see less and less distance into the woods.
The cherry blossoms have come and gone, but have been replaced by many other flowering bushes, plants, and trees. The trillium are flowering and seem to be having a good year. I went to Rhinelander the other day and was wondering on the way home if I had seen a million or a billion of them. Everywhere I looked the forest floor was littered with them.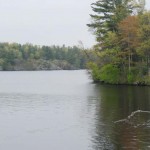 The forest canopy is starting to fill in nicely. There are a lot of shades of light green on distant hillsides, punctuated by the dark green conifers sticking out. It isn't quite as dramatic as the fall show, but it is still very scenic. In the past few days the oaks have been adding almost a yellow green as their early leaves emerge.
The spring awakening isn't lost on the insect world. I have been seeing a variety of moths already. The past two weekends the gnats have been a bit of a bother, and the wood ticks were present and accounted for.
The 'gators (mosquitoes) are hit and miss. A lot of areas have few if any, but golly if you get into a cloud of 'em you will know about it. It is almost like being in Canada where we called the sunset The Hum. I have Repel 40 on the shopping list and you should too. You might not need it at all, but if you do it will be $5 well spent.
Traffic on Hwy 141 north of 64 has been a little hairy lately. They are putting in passing lanes and they replaced a bridge just north of Crivitz that required a detour. It all added up to 16 miles of construction between Wausaukee and Hwy 64 that had flag (wo)men, one lane traffic, and some long waits.
Thankfully the construction will stop for the holiday weekend before resuming. The DOT will try to have construction wrapped up for the weekend by noon Friday statewide.
The truckers will be happy that they finished the bridge north of Crivitz. The detour had them taking 64 into Marinette and 180 north to Wausaukee before rejoining 141. It was about a 40 mile detour that took an extra hour for sure. That will be open by noon Friday.
Construction will resume again Tuesday on the passing lanes and other construction on 141. It might be unpleasant now, but the passing lanes will be a blessing later. They will be between Crivitz and Wausaukee and again south of Crivitz between there and the 4 lane.
We have had a wild week for weather. Tuesday night clear skies and a Canadian air mass brought us low temperatures of 26 overnight. With the days struggling to reach 50 and some wind, it felt a lot like March early this week. There was a good layer of frost on the windshield a couple of mornings too. Looking at the weather forecast we could see frost again tonight.
More than a few people were scrambling to cover or bring in new plants for the freeze. I have learned the hard way over the years that as tempting as it may be, I don't start plants in the ground until June 10. Even then a clear night and a cold front can get a little too close to the danger zone.
The weekend looks a lot better. Friday looks clear and close to 70. Friday night could go into the high 30s, so bring the good sleeping bag. The clear skies that will bring the cold should also bring some good stars, so that is a mixed blessing. Saturday the NWS is predicting sunny and 73 with only a little wind.
Sunday we will see increasing clouds and a high around 70. There is an increasing chance of rain in the afternoon. Sunday night and Monday look wet as a pretty good sized storm brings rain that will last into Tuesday.
Fire danger is only at moderate today, much better than it was a few weeks ago. There is still a lot of dry plant material from last year's growth and we haven't had much for rain this week, but it is not tinder dry anymore.
In events..
It IS Memorial Day weekend so let's start with those services.
In Silver Cliff the local VFW post will be having their observance Sunday at 10am followed by a picnic at 11.
In Crivitz they will be having their Services at the Crivitz Cemetery Mausoleum starting at 10:30 am. There will not be a parade this year. In case of rain they will be moving the service to the Elementary School.
I also read somewhere that Mountain was having a Memorial Day observance and picnic, but I am unable to locate that article at the moment so I am not sure if it is Saturday or Sunday.
Sunday from 10:00 am – 3:00 pm 16th Annual McCaslin Lioness Faire.Silent auction, crafters, book sale, spin the wheel and children's games, including a bouncer. Food, pies and refreshments available.
Red White & Music Festival
Crivitz Community Veterans Park
Saturday, May 23, 2015 – 11am-11pm
Flag Raising & National Anthem at 10:45am
Live Music, Burgers, Brats, Beer, Wine & More!
Free Kids Activities 11am to 6pm
Music by: Save the Wooly Mammoth, Bourbon Cowboys & RPM
Proceeds benefit the Park Improvement Project
For more information visit us on Facebook
Event brought to you by FAB Events, Falling Waters Winery & Witts Piggly Wiggly
Please, no carry-ins
Whitewater rafting will be a good time this weekend. On the Peshtigo River I consider anything above 300cfs to be the fun zone and it is 365 right now. It hasn't fallen under 300 yet this year, and I don't expect it to over the weekend.
On the Menominee River I like it over 900cfs and anything over about 1,500 starts getting really fun. It is running at 1,900 right now, and has been around 2,200 all week.
Either river will be a good choice this weekend, so call Kosir's and reserve your spots.
I think that is the list for tonight. Have a good weekend and thank you very much for visiting!
RJB