Greetings and welcome!
It looks like another full week ahead, so I am getting a head start with some events.
This Saturday is the Silver Cliff Picnic & Parade. Here is the sign with the info…
This Friday is also the drive through fish & shrimp fry, a fundraiser  with the Friends of the Mountain Ambulance Service. it is at the Mountain Ambulance Station along 32.
In Wabeno they are having a street dance this Friday night. The poster is a little blurry but making it bigger helps.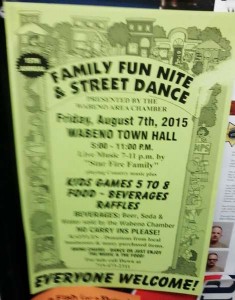 There is also a fishoree and corn roast/meat raffle on Hwy W by Roberts Lake in Wabeno. There will be raffles and cash prizes too.
From Chris' event calendar..
Aug. 8
Amberg Community Assoc. Annual Duck Run at Mosquito Park
Starts at 11am, public is invited. Paddle wheel, raffles, food and refreshments. Ducks for sale at Mathis Hardware, Driftwood Sport & Fuel, Amberg Pub.
We had a couple of lines of storms roll through yesterday. They brought lightning, heavy rain, and a few wind gusts. There were reports of wind damage and hail over by Rhinelander, but nothing to speak of here. I did see a few hail stones in the heavy rain, but they were peanut sized and there weren't many of them.
The second line turned into a beast as it moved east. There were pictures on the news from Oconto and Oconto Falls with 3″+ hailstones. One was as big as the palm of the guy's hand. Door Co took some wind damage too.
There was a 100 acre wildfire near Parkway and Hwy W last weekend. They had several DNR crews as well as several local fire departments, and it still took a while to tame the blaze. Dry conditions were a factor in the size and difficulty of the fire.
That is news from here. Have a good week and thank you for visiting!
RJB