Greetings and welcome!
We have continued to enjoy normal or cooler than normal weather in August. When I think of July and August and I think of hot weather. The sun is still plenty warm, but it has remained reasonable with daytime temperatures in the 70s and 80s. So far we haven't had any real stretches of 90+ weather or humidity.
It has been very common to go outside in the morning to a heavy dew. It almost feels like September or October in the morning, especially with overnight lows in the low and mid-40s.
We were getting a little dry here for a while, but we had a good rain Monday night. A storm stalled to our east, and Monday night an area of rain camped over us for pretty much the whole night. It was just one blob that kept getting reinforced. The end result around here was between an inch and an inch and a half of rain.
The nice weather will continue, though we have a 50% chance of rain for Saturday. Highs in the upper 70s or low 80s are in store for Friday and Saturday, and mid-70s and sunny for Sunday.
Here are some upcoming events..
Aug. 16
The Hidden Bear Trail ATV Club fundraiser
Animal's Bear Trail Inn, Mountain – noon to 6pm
Raffles, food & beverages – All proceeds from this event will go toward maintaining current ATV trails/routes and creating new ATV trails/routes in the townships of Doty, Riverview and Lakewood in Oconto County
Aug. 14 – 17
Oconto County Fair – Zippel Park, Gillett
Demolitionderbies, horse, truck and tractor pulls, animal judging, exhibits, bands, family entertainment and carnival.
August 21 – 24
Marinette County Fair – County Fair Grounds, Wausaukee
Demoliton derbies, horse, truck and tractor pulls, animal judging, exhibits, bands, family entertainment and carnival
August 30
Red Arrow Annual Corn Roast and ATV Parade – Valley Inn, Townsend
ATV Parade at 10:30 am from Townsend Shell to Valley Inn – Meat Raffles, Food & Refreshments
Hosted by the Red Arrow Snowmobile & ATV Club – Proceeds go to trail maintenance
August 30
Amberg 34th Annual Fireman's Picnic & Parade
Parade at 11am to Fireman's Park, Water Fights, Demonstrations, Children's Games
Food & Refreshments, Live Music, Raffles, Horseshoes
August 30
Crooked Lake Fire Department Breakfast.
August 30
Annual Corn Roast & Family Fun Day – Townsend Town Hall
starts at 11 AM – Children's Games, Music, Food & Drink, Raffles & Prizes
Sponsored by the Townsend Flowage Assoc.Riverview Fire Department Annual Corn Roast and Picnic, 9am.
Aug. 31, 2014
Lakewood Firefighter's 29th Annual Picnic
As I started to get ready to do firewood again last week, I stopped at the entrance to the wood shed when I saw this overhead.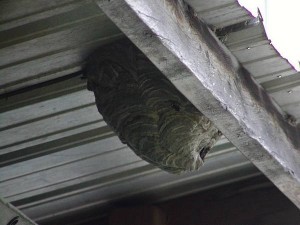 I wasn't all that surprised, it is an annual thing. Last year it was the back steps, the year before it was the work shed and the air conditioner.
I went outside Tuesday night and blasted it with a can of cheapskate store wasp and hornet spray into the front, and another half a can soaking the side that I could get to. Imagine my surprise when I went outside tonight to work and it was as busy of a nest as ever. I think that I need better bee freeze.
The top wildlife sighting recently happened Sunday in the Nicolet Forest near Lakewood. I was driving along when a hawk jumped up out of the ditch carrying a snake. I slammed on the brakes and probably just grazed the tail of the snake. As I watched the hawk fly away with his dinner, I am thinking now there is something that you don't see every day.
Well, time to get back to work. Have a good weekend and thank you for visiting!
RJB